---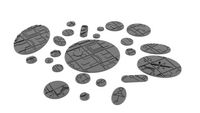 Necrossia: Round Thematic Bases
ProtoKraken
This is a collection of round miniatures bases designed to match the floor styles found in Necrossia: The Necropolis - Core. These are complete bases designed to print in a single piece each. The 32mm and 60mm flying bases are designed to accept a stem with a 5mm diameter (often this can be achieved by clipping the peg off the bottom of the flying stem included with your miniatures), while the 92x120mm flying base is designed to slot the common cross-shaped flying stem used by large flying miniatures.

Includes
180 Files, including:
Twenty 25mm bases.
Twenty 28mm bases.
Twenty 32mm bases.
Ten 25x70mm bases.
Ten 32mm flying bases.
Ten 35x60mm bases.
Ten 40mm bases.
Ten 46x75mm bases.
Ten 50mm bases.
Ten 52x90mm bases.
Ten 60/65mm bases.
Five 60mm flying bases.
Five 70x105mm bases.
Five 80mm bases.
Five 92x120mm bases.
Five 92x120mm flying bases.
Five 100mm bases.
Three 105x170mm bases.
Three 130mm bases.
Three 160mm bases.
Reference Documents

Necrossia: Round Thematic Bases, Parts Catalog
DISCLAIMER: Digital File
This item is a Digital File intended for use with a 3D Printer. Purchase of Digital Files are final and not returnable or refundable. Digital Files are subject to our STL Licensing Agreement and associated Terms and Conditions. Print times, filament usage, and print quality may vary based on, but not limited to, individual printers, settings, tuning and/or environmental conditions.